墙报报道 | 孙浩源个展——⽥野商店
---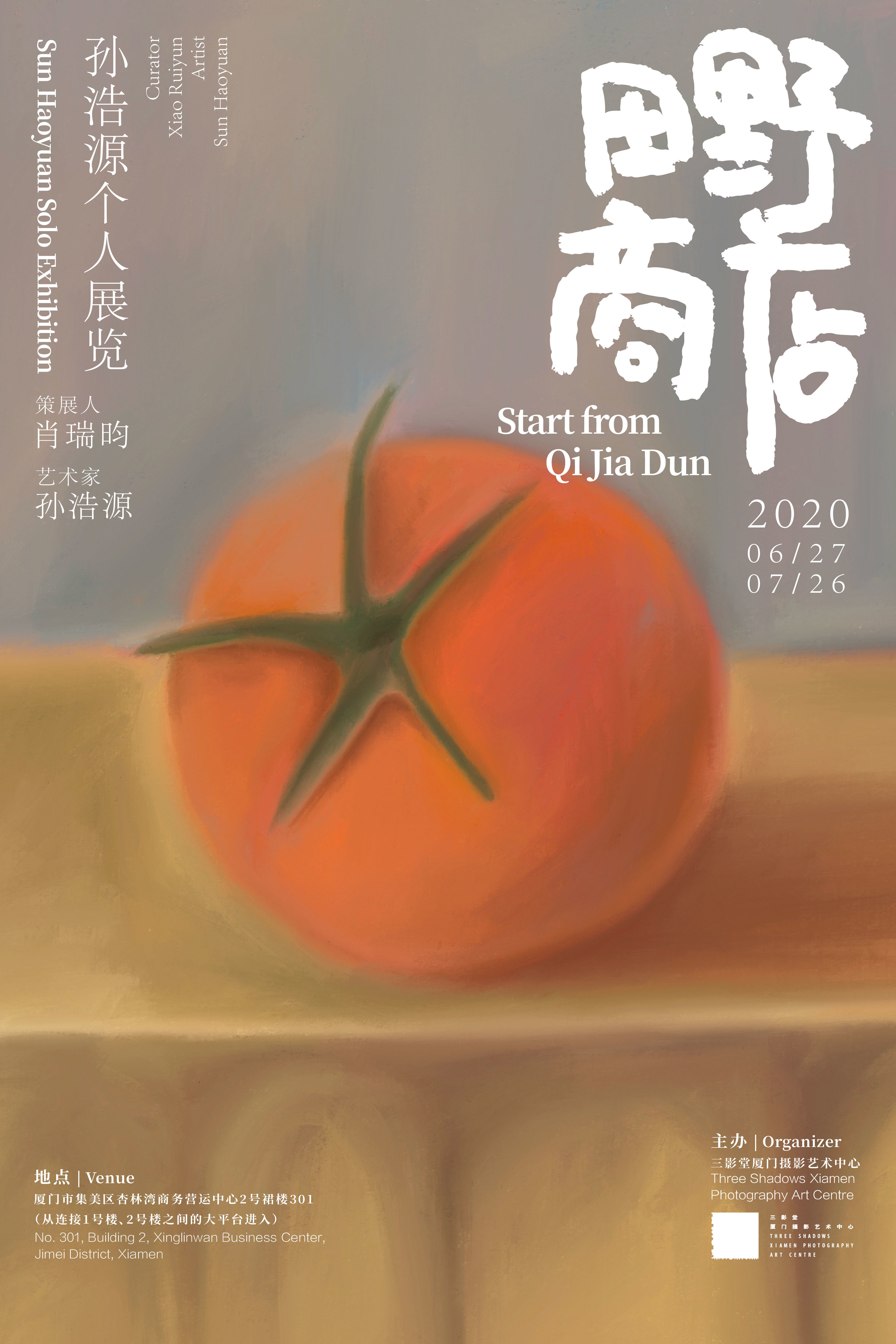 孙浩源个展——⽥野商店
主办:三影堂厦⻔摄影艺术中⼼
艺术家:孙浩源
策展⼈:肖瑞昀
时间:2020年6⽉27⽇ - 7⽉26⽇ (展览开放时间暂定,如因疫情状况调整将提前发布公告)
地点:厦⻔市集美区杏林湾商务营运中⼼2号裙楼301 (从连接1号楼、2号楼之间的⼤平台进⼊)
前⾔
⽂/孙浩源
从戚家墩出发
你玩过铃铛草吗?把那⼀株所有的叶⼦⼩茎往下撕⼀点点,放在⽿边摇晃,就会听⻅清脆 的的铃铛声。
我出⽣在⼀个半农村半城市化的环境,这也是我们这个年代很⼤⼀个群体的⽣活状态。我 家在上海的最南端,⼀个叫做⾦⼭的地⽅。⾦⼭是上海的⽯油化⼯产业的聚集区,所以我 ⽣活的这个区域也被称为"⽯化",我们家所在的街区,叫做"戚家墩"。
我要讲的故事的起点,就在这。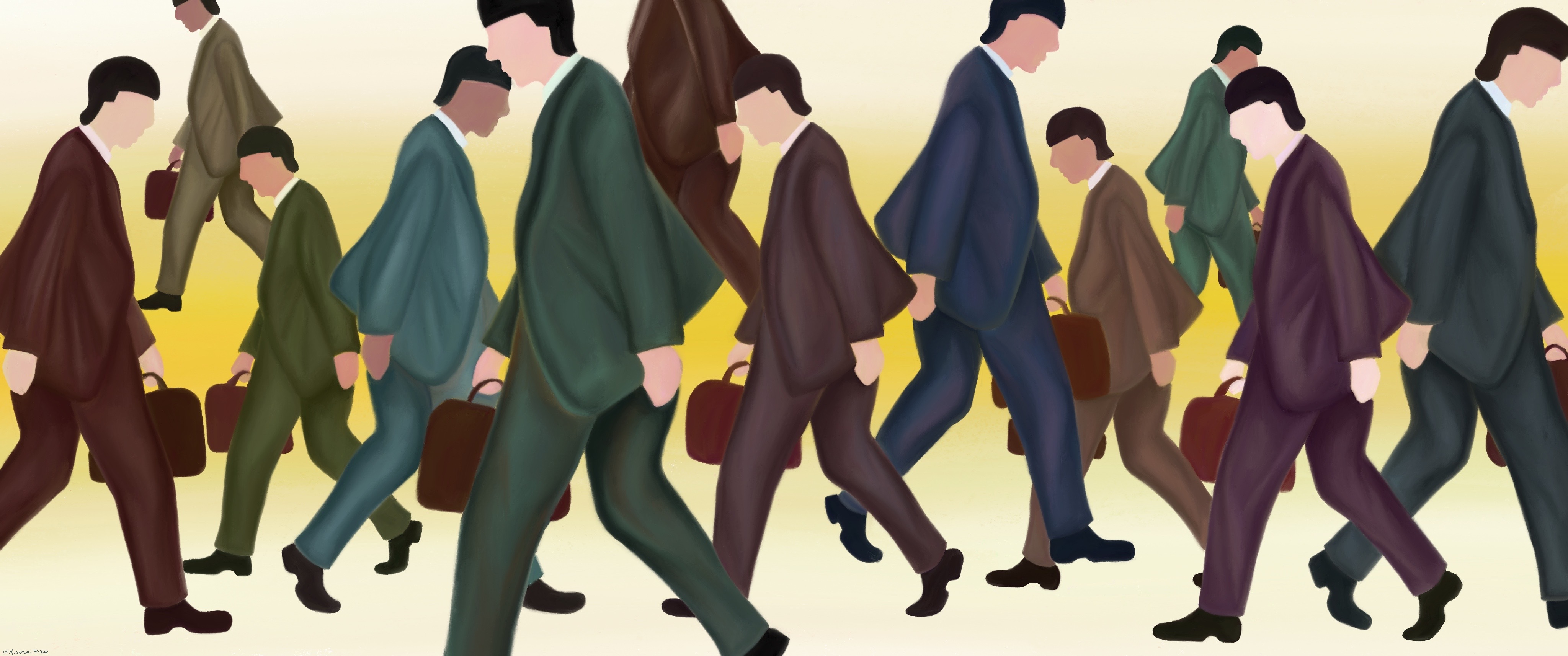 城市副本Copy of Cities
⽥野商店
戚家墩的⼀⽚⽥野间,有⼀间⼩商店,商店总是满满当当,你能在⾥⾯找到你想要的⼀切东⻄,包括快乐。
⼤约是上⼩学时,⼀座巨⼤的百货商店在⽥野间⽣⻓起来。不知是房屋变⼤,还是我变⼩了。
你现在所在的这个"⽥野商店",他建⽴在我从⼩的⽣活环境之上,⼜结合了我⻓⼤后,对于世界的感知。商店,或许不是贩卖产品,他藏着某些仪式感、某些欲望、还有某些爱。 这些在这⾥都能看到。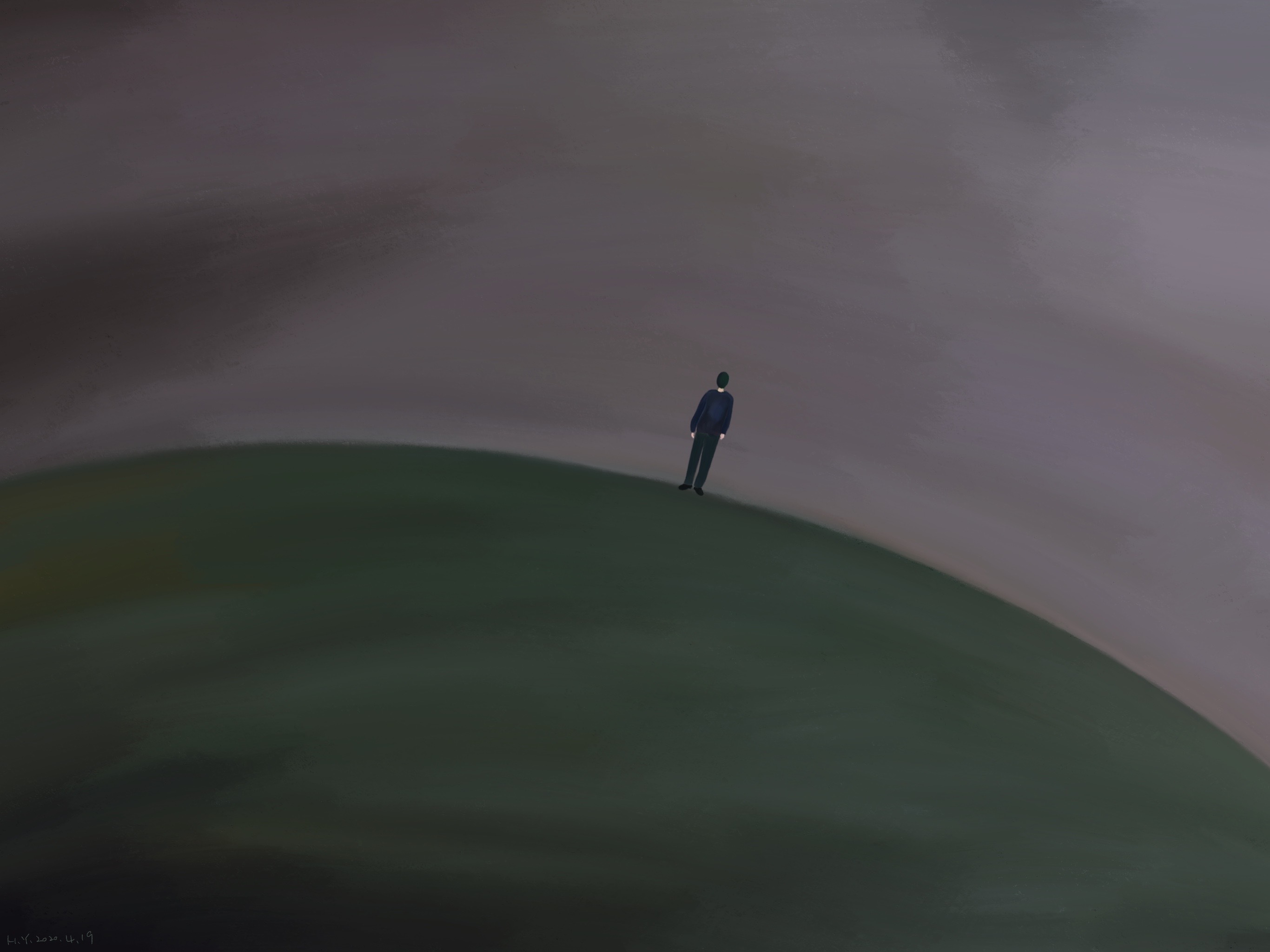 微信,宇宙回旋wechat,the convoluted universe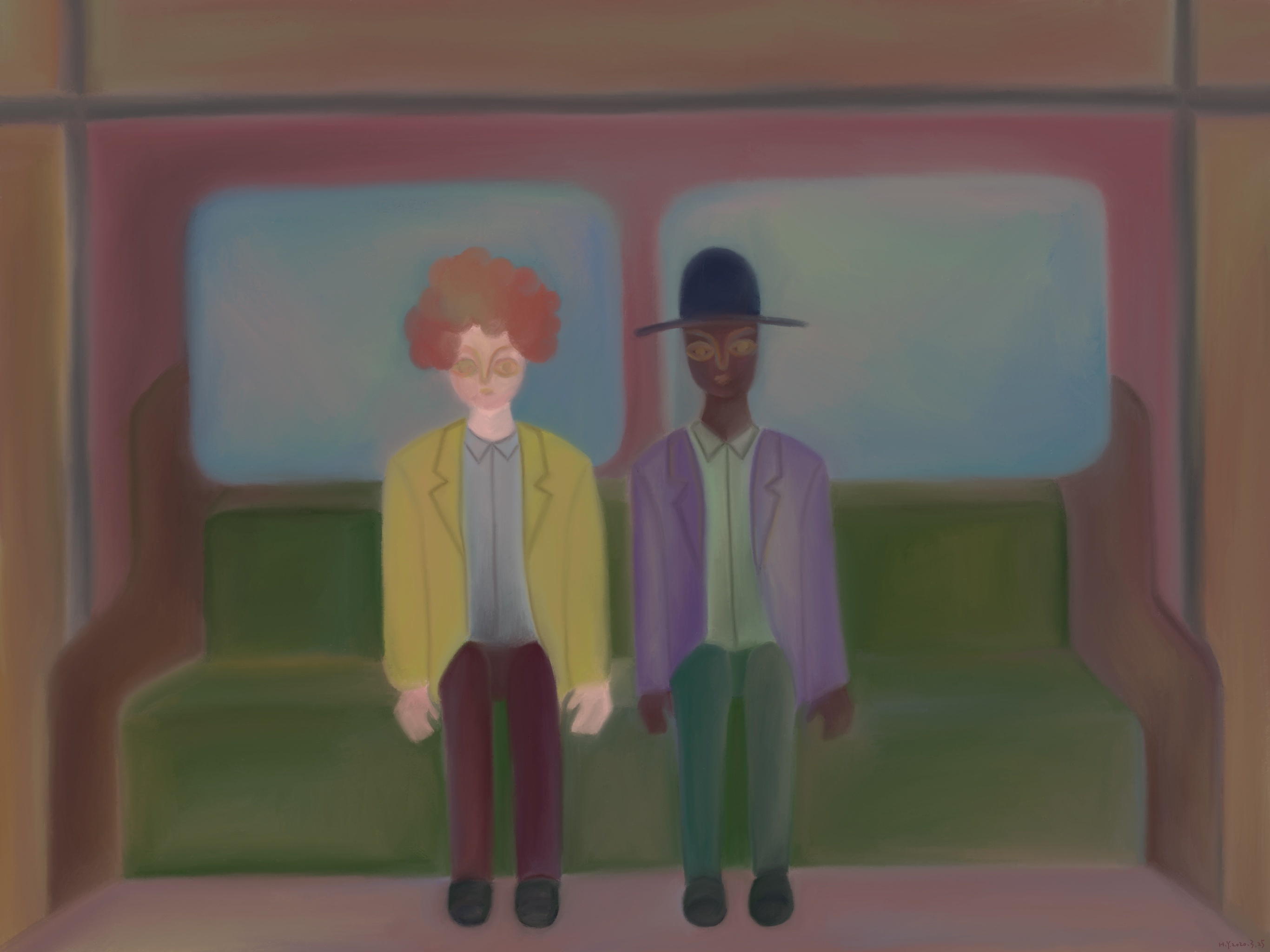 平壤爱情故事Pyongyang love story
番茄
⼩学放学时,外婆会去学校⻔⼝接我放学,回到家,从冰箱⾥拿出⼀盆"糖番茄",上⾯⽤⼀层保鲜膜细⼼得包裹着。
每当我看⻅这盆糖番茄时,我就知道,夏天到了。
于是,"番茄"成了贯穿这次展览的代表——"时间"象征物。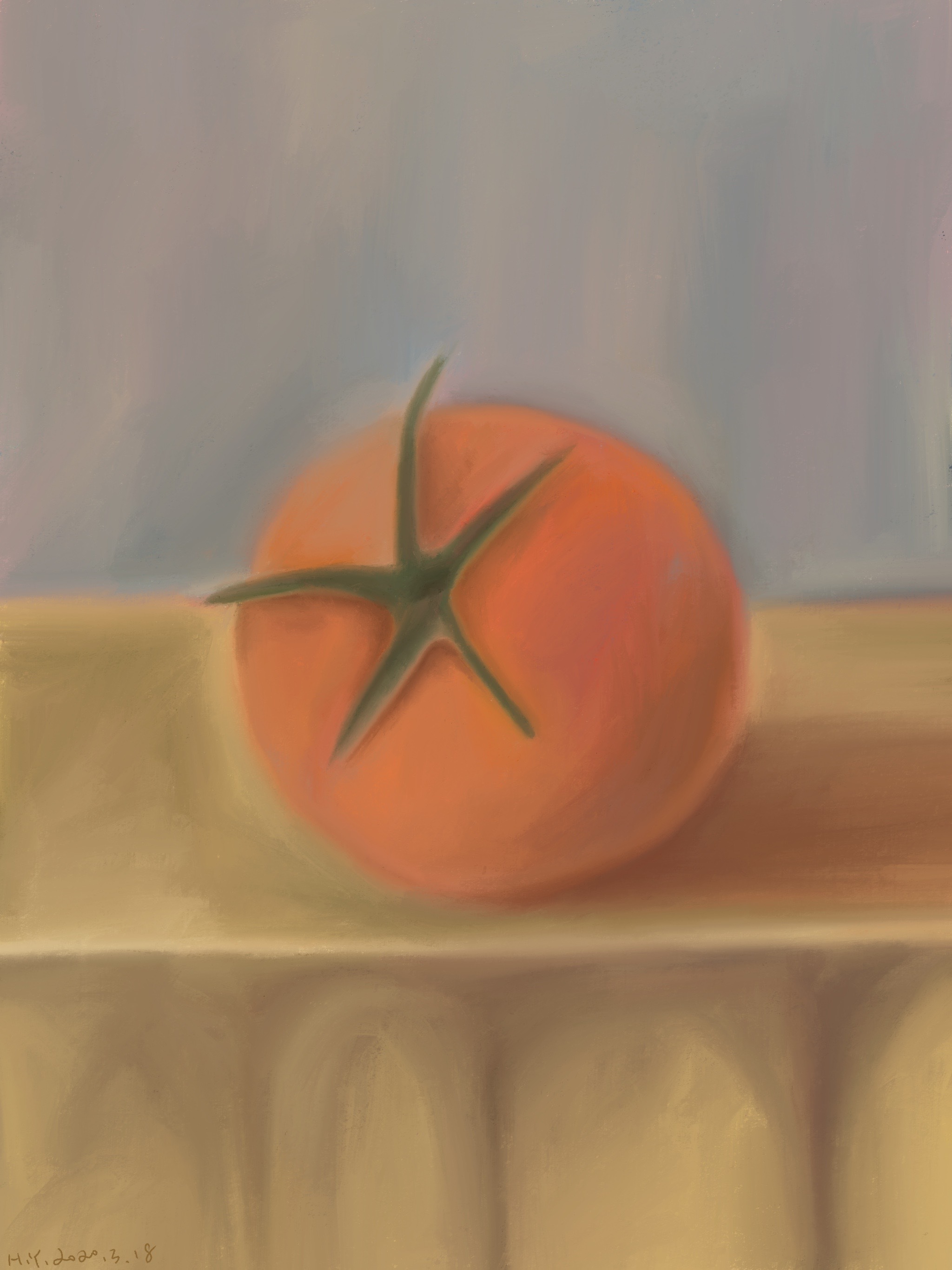 番茄TOMATO
个⼈与群体
想象⼀个空旷的⼴场上只有⼀个⼈,和有⼀⼤群的的景象,那种感受所带来的很有趣的差别感。个⼈组成了群体,群体因为个⼈⼜不同。
展览作品从我⾃身出发,围绕着⽣活展开,家庭、爱、欲望、城市、梦境、⼈物。他或许 是⼀个个体,但可能代表⼀个群体,也有可能是⼀个群体,但看起来是⼀个⼈。展览每个 部分其实相对独⽴,但⼜其实隐藏着某种关联。或许是每个⼈在⼈⽣不同⻆⾊上的不同, 或是表现出来的、或是被隐藏的不同⾯吧。我构建了⼀个独特的社会秩序,观众可以从中感受,感受到的能量,都是独⼀⽆⼆的。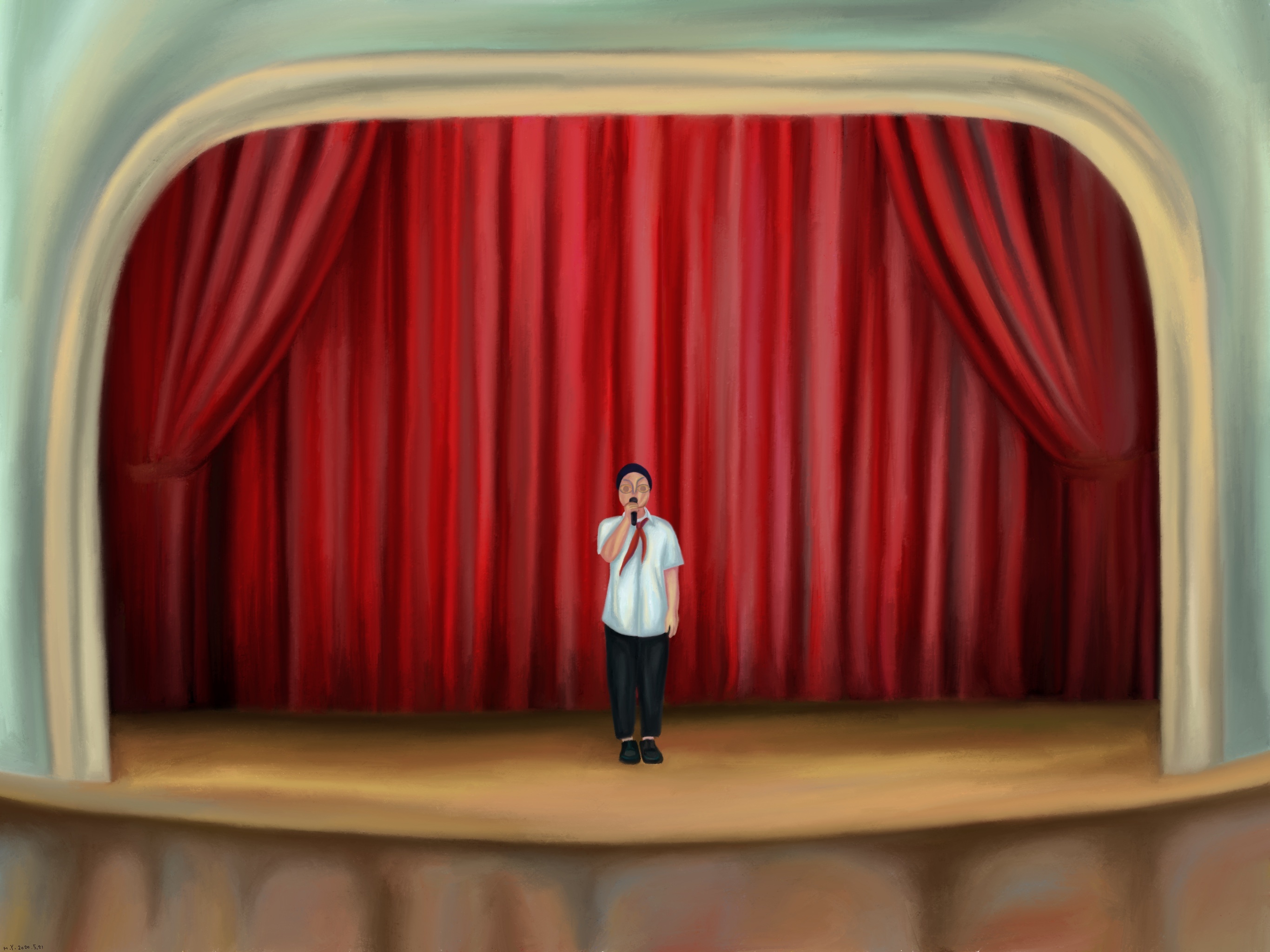 故事大王Story Master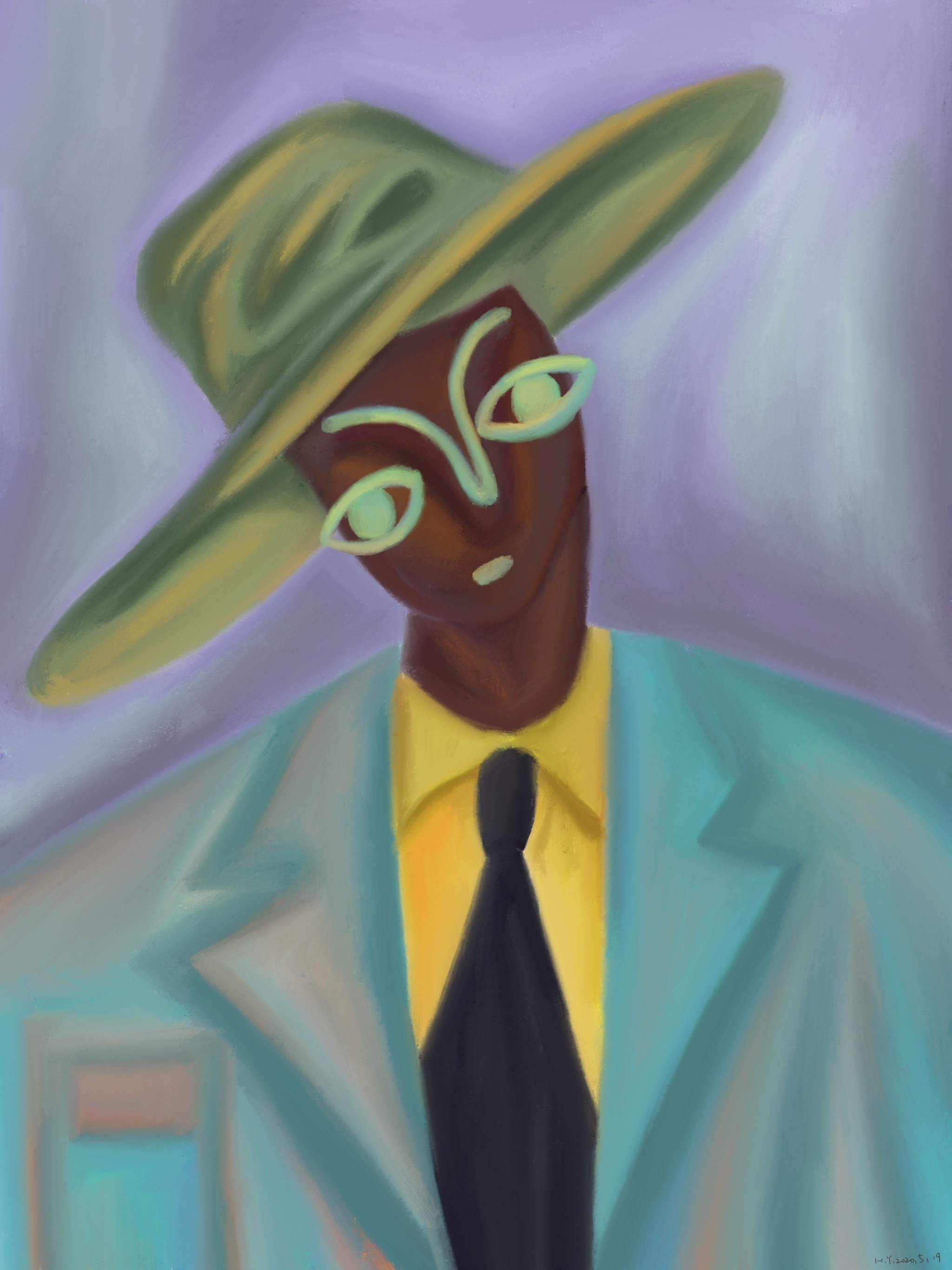 像外星人一样被展览Being Exhibited Like Aliens2
你的故事
这次展览的所有作品都是⽤iPad画的,创作时间均为2020年,前半年宅在家的⽣活,让我拥有⼤段的时间去画,我也是在这期间,找到了我想要表达的⼀种属于我⾃⼰的语⾔吧。 展览中包含绘画、雕塑、装置、影像。
希望你拥有⼀段有趣的经历,或许你可以找到这些作品间的关联,那是属于你⾃⼰的故事。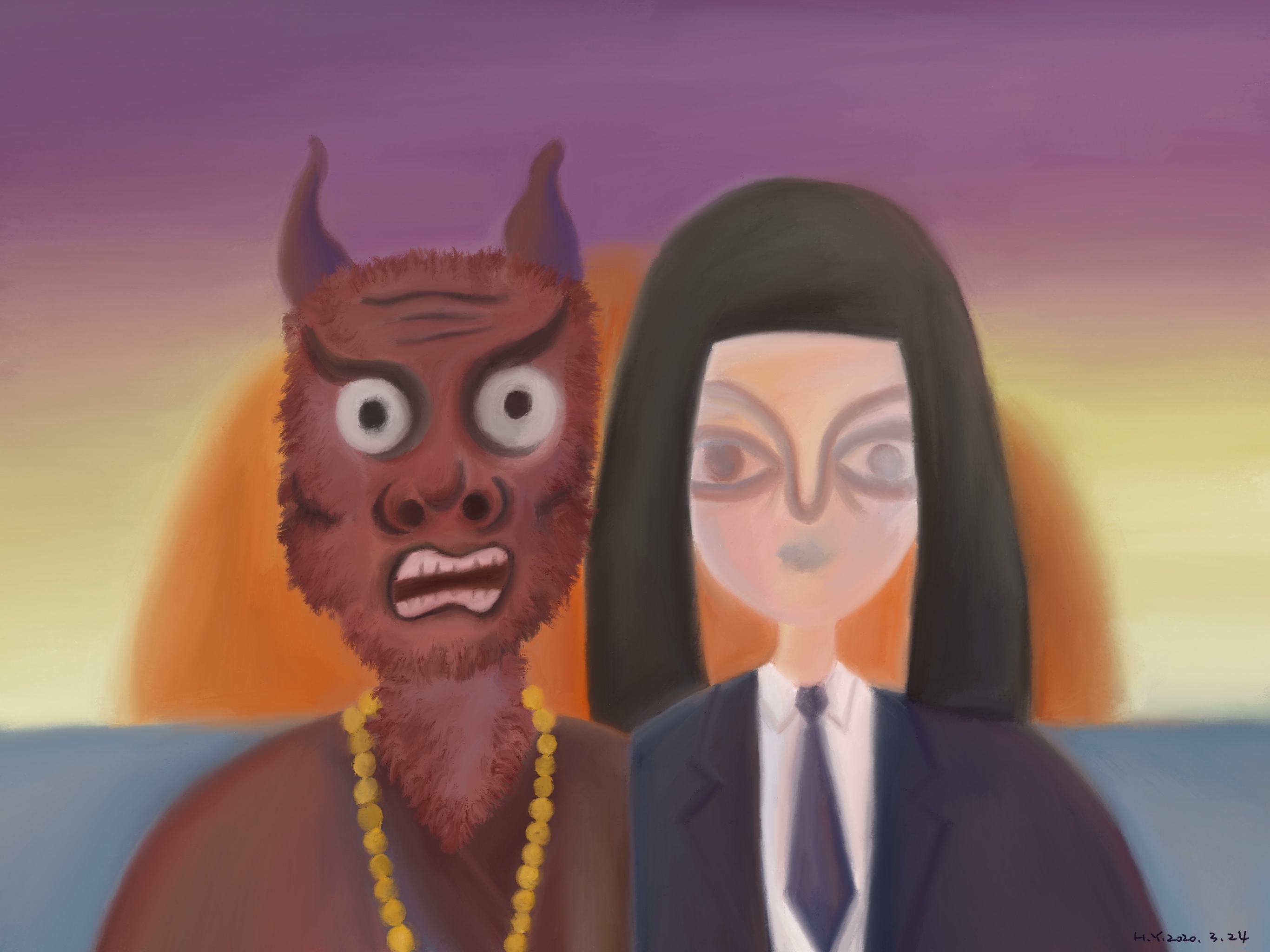 梦里嘉宾Guests in the dreams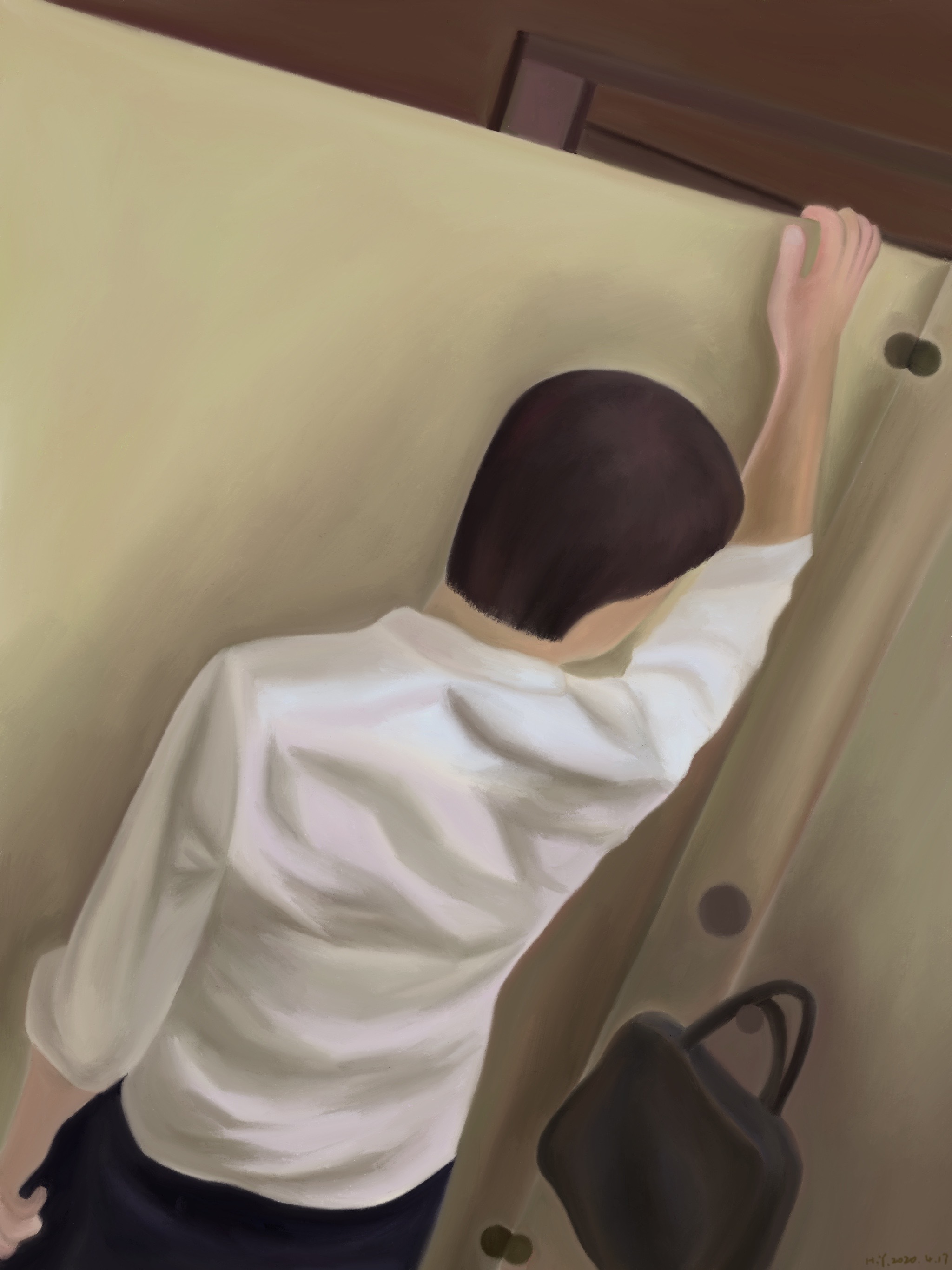 下班之后,回家之前After work,Before go home
关于艺术家
孙浩源,出⽣于1992年,上海⾦⼭。
绘画主要以iPad作为绘画⼯具,这也是时代印记,科技的更迭,使得艺术创作有了 更多可能。
作品⼤多以"时代、⾃我、环境、梦境"为背景,去表达他脑海中的社会秩序、⼈物 形象与时代特征。作品形式包括绘画、雕塑、影像等。
Sun Haoyuan Solo Exhibition —— Start from Qi Jia Dun
Artist:Sun Haoyuan Curator:Xiao Ruiyun
Organizer: Three Shadows Xiamen Photography Art Centre
Duration: June 27, 2020– July 26, 2020
Venue: No. 301, Building 2, Xinglinwan Business Center, Jimei District, Xiamen
Preface
Text / Sun Haoyuan
Starting from Qijiadun
Have you ever played with a bellflower? If you tear its little stem and swing all its petals close to your ears, you will hear the clear sound of a bell.
I was born in a semi-rural, semi-urban environment – the sort of environment shared by a large group of people from my generation Today I live in the southernmost region of Shanghai, a place called Jinshan. Jinshan is the epicenter of Shanghai's petrochemical industry; thus this area where I live is also called "Petrochemical." The block where my house is located is called "Qijiadun."
Qijiadun is where my story begins.
The Field Store
There is a small store in the field of Qijiadun. The store is always full of products. You can find everything you want in it, including happiness.
Around the time when I was in elementary school, a huge department store was built in the field. I didn't know if it was the store that got bigger or if it was me that got smaller. The "field store" where you are right now is based on the environment that has surrounded me since childhood and is combined with my perception of the world that I acquired as I was growing up. A store might not just be a place for selling products. It could also be a hiding place for love and certain rituals and desires, all of which can found here. 

Tomato
When I was in primary school, my grandma always picked me up at the front gate at the end of the day. When we arrived home, she would take out a bowl of sliced tomatoes with sugar from the refrigerator. The top of the bowl was carefully covered with plastic wrap. Whenever I saw this bowl of tomatoes, I knew that summer had arrived. Therefore, "Tomato" represents this exhibition as a whole—it is a symbol of time.
Individuals and Groups
Imagine two scenarios. In one there is only one person standing on an empty square, while in another there is a large group people. The different feelings aroused by these two scenarios are very interesting. Groups are composed of individuals, while groups also differ from each other because of individuals.
The exhibition starts with me as a person and unfolds to become a bigger conceptualization of life encompassing family, love, desire, the city, dreams, and a "character." That character may represent a specific individual or a group of people, or it could be a group that has the appearance of an individual. Each part of the exhibition is relatively independent, but at the same time there are some hidden connections that unite them. Each part may represent the difference between the roles people play in life, or the aspects that life hides or brandishes. In this exhibition, I have constructed a unique social order in which the audience can experience a distinctive kind of energy.
Your Stories
I created all the works in this exhibition on an iPad in 2020. Staying at home the first half of the year allowed me to spend a lot of time painting. During the same period, I also found my own language to express myself. This exhibition includes paintings, sculptures, installations, and videos.
I hope you have an interesting experience. Maybe you can find the connection between these works, and that will be a story of your own.
Artist Introduction
Sun Haoyuan was born in 1992 in the Jinshan District of Shanghai. He mainly paints using an iPad – both a mark of his era and a representation of how technology has opened up new possibilities for artists. Many of his works grow from his notions of "time, self, the environment, and dreams," expressing his views on social order and the personality of the times. His practice incorporates painting, sculpture, video, etc.
---