Kuhl和Leyton:我们都是拼贴艺术家
---
前言:
布拉德.库尔和莫妮克.雷顿同于迈阿密长大,并一起就读于一所设计与建筑类高中。两人的合作始于他们在位于意大利罗马的康奈尔大学艺术系就读期间,这种合作关系一直持续至他们来到中国北京,在这里,他们依然携手继续着辛勤的艺术创作。同时,他们是中央美术学院的艺术老师。
库尔和雷顿诚邀您一同见证权利景象、犯罪现场、悲剧场景、名人肖像以及幽默趣景。每一幅作品均取材自社会实景,并以一个全新的视角加以重现和利用,以唤起人们新的思考。作品色调时而丰富多彩、张扬大胆,时而简约明了、注重两种色调的诠释。在一系列面孔和影像背后蕴藏着作品中想要反应的问题,引起观者情感的迸发。
墙报专访Kuhl和Leyton:我们都是拼贴艺术家
导读:摄影是工作使用的资源,颜色和标志在最后的作品中发挥巨大的作用。所有的工作都被合作完成。我们都是摄影师,我们也都是拼贴艺术家。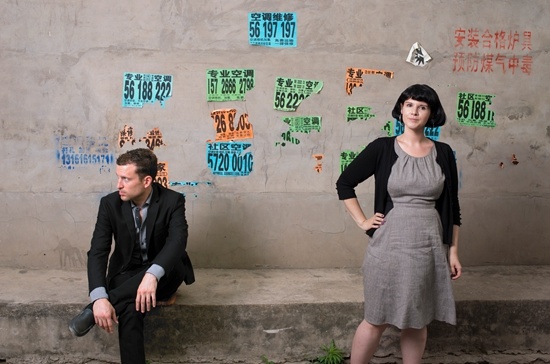 Kuhl和Leyton
You grew up together, study together, work together, how do you think about each other?
你们一起长大,一起学习,一起工作,如何评价对方呢?
Kuhl: I see Monique like a sister, as she knows me better than anybody does. We often finish each other's sentences or simply know what the other is thinking without saying anything. I was drawn to her at first as a friend because she is my opposite in many ways: she is bold, outgoing, lacks social anxiety, and thrives on interaction with others. I believe these differences keep us together as friends and keep the collaboration interesting.
库尔:莫妮卡像是我的姐姐,她比任何人都了解我。我们经常心有灵犀。我最初被她吸引是因为她在很多方面都和我截然不同,她很勇敢,外向,非常自如,社交也很棒。我相信这些不同让我们一直是朋友,也让我们的合作变得有趣。
Leyton: Brad is my best friend, pure and simple. I am blessed to have Brad in my life. He is a critic, thoughtful, goal-oriented and a dreamer hidden under a mathematician. We are a team. We have been working together so long that I do not have to explain my thoughts to him; it is instant understanding. There are few people who change your life. Brad has done that for me and continues to do so. I cannot imagine any step in life, art or otherwise carried out without his council. He is my therapist, teammate, brother from another mother and partner in crime.
莱顿:布拉德是我最好的朋友,非常简单和纯粹。我希望布拉德在一直陪伴我。在数学家的外表之下,他是一个深思熟虑、有目标的批评家和梦想家。我们是一个团队。我们已经合作这么长时间,我并不需要向他解释我的想法,他就能理解。只有几个人改变你的生活。布拉德对于我正是如此。我无法想象,如果没有他的讨论, 我生活中任何一步,艺术或者其他事情会如何进行。他是我的治疗师,队友,同父异母的哥哥和忠实伙伴。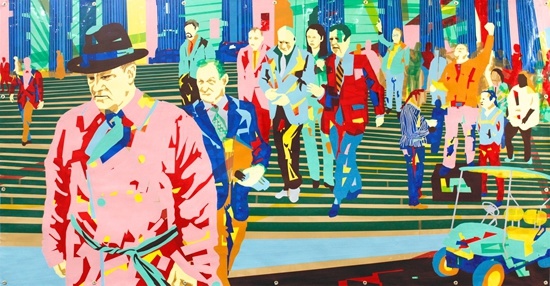 Jack Abramoff, Acrylic Tape and Bookbinding Tape on Paper, 5' x 9'6", 2012.
杰克·艾布拉姆 丙烯胶带和装订胶带,纸上拼贴,5 ' x 9 ' 6 ",2012年。
Why do you want to create about White-collar crime?
你们为什么想创作关于白领犯罪的主题呢?
In the past 15 years two dates stand out: 2001 and 2008. One is marked by violence, another by financial collapse. Warren Buffet called the Great Recession of 2008 poetic justice for bankers. American banks had become the modern-day equivalent of the Titanic: too big to fail. In the many years after the financial collapse of 2008, much of the burden has fallen on the shoulders of the common people and very little of this burden has been endured by the rich bankers who are in many ways responsible for the financial manipulation behind the collapse. Reckless CEOs were often given large severance packages and almost none went to prison. In the meanwhile, life for the average person in America has not gotten much better. Taxpayer money was used to bailout and assist many companies that went bankrupt due to carelessness, negligence and sometimes outright predatory behavior.
在过去的15年里,2001年和2008年。在过去的15年里两个日期脱颖而出:2001年和2008年。一个充斥着暴力,另一个金融崩溃。沃伦·巴菲特称2008年的大萧条为银行家们理想的赏罚。美国银行已成为当今的"泰坦尼克号":太大而不能倒闭。在2008年的金融崩溃之后的多年里,大部分的负担落在了普通老百姓的肩膀上,只有很少的负担被富裕银行家们承担,即使他们在许多方面应该对金融崩溃背后的操纵负责。不计后果的ceo们经常给大额的遣散费,因而没有人去监狱。同时,美国普通人的生活并没有变得更好。纳税人的钱被用来救助和帮助许多由于粗心大意和疏忽而破产的公司,有时简直像掠夺行为。
Our series about white-collar crime asks questions of America's justice system, deeper questions about income inequality and how money is suffocating democracy. Why should common people lose their homes, savings and livelihoods at the expense of a few people who have too much money for their own good? All too often race and class influence the punishment for crimes committed in America.There can't be justice when money, skin color, and social connections blind the system. What happened to democracy in America?
One major is photography, one major is print, how did you begin create "collage" ?
一个主修摄影,一个主修版画,你们是如何开始创作"拼贴"的?
I think both of us have never been married to one medium. Schools often force artists to choose a major, but I think both of us have always thought of art in broader terms than just medium or major. However, Brad is more mathematically oriented which makes him suitable for photography. Monique went into printmaking because she is more apt at drawing and color. Collage with tape combines aspects of both of these disciplines. Photography is often the source material for the work used, and color and mark making play a huge role in the final work created. All aspects of the work are done collaboratively,
however. We are both photographers, we are both collagists.
我认为我们俩从来没有嫁给一个媒介。学校经常迫使艺术家选择一个专业,但是我认为我们一直认为艺术更广泛,而不仅仅是媒介或专业。然而,布拉德更具数学思考使他适合摄影。Monique进入版画,因为她更善于绘画和颜色。胶带拼贴结合了这些规则。摄影是工作使用的资源,颜色和标志在最后的作品中发挥巨大的作用。所有的工作都被合作完成。我们都是摄影师,我们也都是拼贴艺术家。
Why do you like Acrylic Tape and Bookbinding Tape?
你们为什么喜欢亚克力胶带和装订胶带?
We first chose this medium when we were living in Rome, Italy. We decided to work together for the first time and came across colorful tape in a stationary store. We both immediately were drawn to it like flies to sugar. I think for us the bright colors reminded us of home, Miami. The vibrant culture in Miami will always stay with us and influence our color choices. Tape also has an immediacy to it that lends itself well to collaboration. It is at once drawing and painting. It is quick and temporary in its nature. It is a temporary solution to a bigger problem.
我们第一次选择这个媒介,是当我们生活在意大利罗马的时候。我们决定第一次合作,就在一家文具商店里遇到了彩色胶带。我们都立即被吸引住了,就像苍蝇喜欢糖。我认为这些明亮的颜色让我们想起迈阿密。迈阿密充满活力的文化永远陪随着我们,影响我们的颜色选择。胶带也有即时性,非常适用于拼贴。它是绘画。它是快速和短暂的。这是一个大问题的临时解决之道。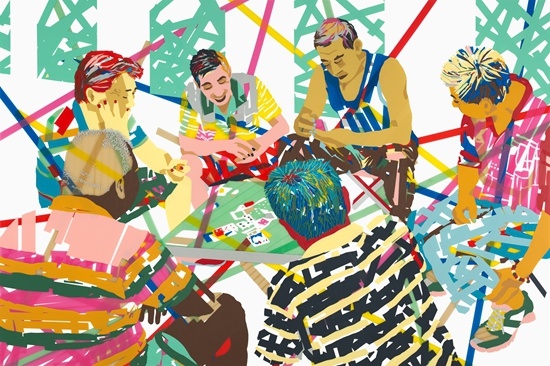 Kuhl和Leyton《老百姓》09
Do you enjoy the work and life in Beijing?
你们享受在北京的工作和生活吗?
China is a huge, emerging world-power and Beijing is the capital of this country. We are inspired by the energy and constant change present here, in Beijing. Yes, we enjoy work and life in Beijing because it never gets dull or boring. There is always something to feed the mind and soul in Beijing. You can never live in Beijing and think that you have experienced and seen everything. If you think this you must be crazy.
中国是一个巨大的新兴世界大国,北京是这个国家的首都。我们的灵感来自于呈现在此的能量和日新月异的变化。是的,我们喜欢在北京工作和生活,因为永远不会单调无趣。在北京,永远有一些东西来充满你的思想和灵魂。你永远不可能住在北京,却认为你看过和经历了一切。如果你这样认为,那一定是疯了。
Is there any difference between American Laobaixing and Chinese Laobaixing?
美国老百姓和中国老百姓有什么不同?
Laobaixing could be translated as "The People" or the "Salt of the Earth". In many American cities, when you walk down the street you don't always see people living their life; rather you see people going somewhere. In America, many people are in their private home or personal space when they are socializing or relaxing. Hanging out on the street is simply not as common anymore although it used to be. In China, many people congregate outdoors: playing a game of cards under the trees, dancing in the courtyards, eating and drinking, or simply sharing conversation. We see a big difference in the social aspects of Laobaixing in these two countries.
老百姓可以被翻译成"人民",或者"社会栋梁"。在许多美国城市,当你沿着街走的时候你看不到人们的生活,只是看到他们去各处。在美国,许多人在他们的家里或者是私人空间社交或者放松。在大街上闲逛并不常见。在中国,许多人在门外聚会,在树底下玩牌,在院子里跳舞,吃喝,或者只是交谈。在两个国家之间,老百姓的社交方面有着巨大的不同。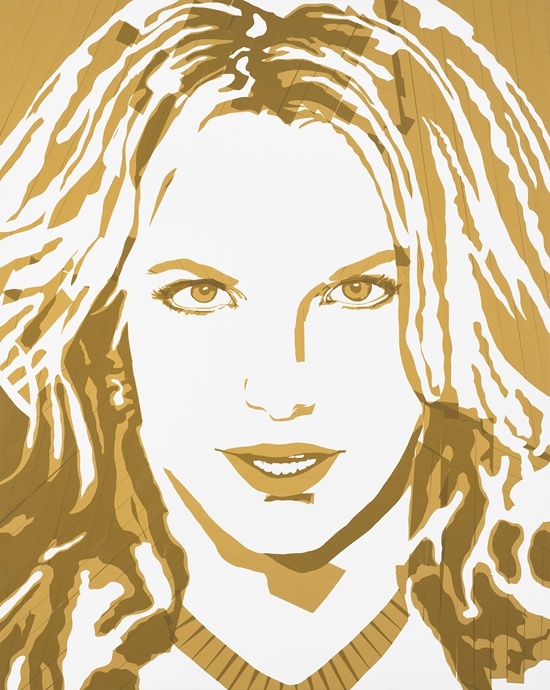 Kuhl和Leyto《Twitter IPO》06
Do you like Twitter?
你们喜欢Twitter吗?
Brad doesn't ever use Twitter and Monique says yes, but Instagram is better. We chose to make a series based on Twitter because it is a social barometer of popularity. We didn't necessarily use it because of our personal interest in the social platform. Instead, Twitter can be used to measure whom society is engaged with and how interactions between high and low society are shifting.
布拉德从来没有用过。莫妮卡用过,但是Instagram更好。我们选择创作基于Twitter 的一系列。因为它是社会流行度的晴雨表。因为我们对于社交平台的兴趣,我们并不一定用它。相反,可以使用Twitter来衡量社会参与和高层低层社会之间的相互作用是如何转变的
推荐人Katherine Brooks评 Kuhl和 Leyton :白领犯罪的阴暗一面
导读:现在两位艺术家——布拉德·库尔和莫妮卡·莱顿创作了"精英异常"系列来赞颂他们的金融天分。
Martha Stewart, Bernie Madoff, Jack Abramoff... what do all these names have in common? They're disgraced billionaires, of course. They've all dabbled in some sort of criminal activity, whether they partook in insider trading or operated an elaborate Ponzi scheme, the wealthy icons fell as hard as they gambled. And now two artists — Brad Kuhl and Monique Leyton — are paying tribute to their, erm, flair for finance, in a series titled "Elite Deviance."
玛莎·斯图尔特,伯尼·麦道夫,杰克艾布拉姆……这些名字有什么共同点呢?当然,他们都是不光彩的亿万富翁。他们都涉足犯罪活动,他们或者参与内幕交易,或者精心策划了"庞氏骗局"。这些富有的偶像们一落千丈。现在两位艺术家——布拉德·库尔和莫妮卡·莱顿创作了"精英异常"系列来赞颂他们的金融天分。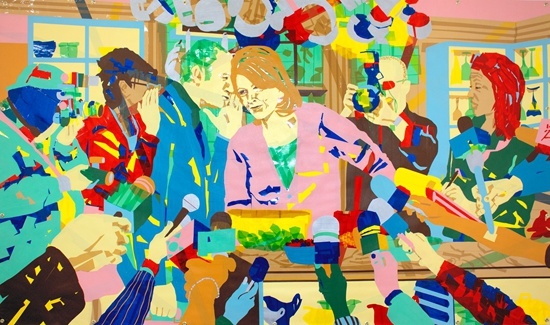 I just want to focus on my salad' Martha Stewart, Acrylic Tape and Bookbinding Tape on Paper, 5'5" x 9'4", 2012 "我只想专注于我的沙拉"玛莎·斯图尔特,丙烯胶带和装订胶带,纸上拼贴,5 ' 5 " x 9 ' 4 ",2012年。
Martha Stewart was involved in insider trading in 2001 which led to her indictment on nine counts, including securities fraud and obstruction of justice. She was sentenced to a five-month term in a federal correctional facility.
玛莎·斯图尔特于2001年参与内幕交易,导致她受到九项指控,包括证券欺诈和妨碍司法公正。她被判在联邦监狱五个月的刑期。
The series transforms the faces of Stewart et al into intricate portraits made from a rather unlikely medium — colored tape. Pieced together and collaged ever so carefully, the resulting images reveal the sly behavior of the world's baddest billionaires.
这一系列将斯图尔特等的脸转化成一些错综复杂的肖像,而这些肖像竟然是由彩色胶带制作而成。精心拼贴之后,这些图像揭示除了世界上最坏的亿万富翁的狡猾行径。
Kuhl and Leyton's explain on their website:
库尔和莱顿在其网站上解释道:
According to the Association of Certified Fraud Examiners, in 2008 fraud accounted for $994 billion in corporate losses. Greater than dollars are the livelihoods of affected victims. In Dante's "Inferno," the seventh circle is Violence and the eighth circle is Fraud.
根据反欺诈联盟,在2008年,欺诈在企业亏损中占9940亿美元。比美元更受害的是受害者的生计。在但丁的"地狱",第七层是暴力,第八层是欺诈。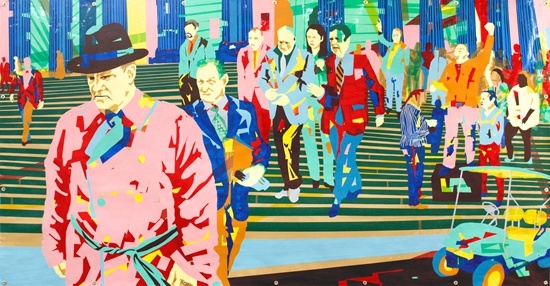 Jack Abramoff, Acrylic Tape and Bookbinding Tape on Paper, 5' x 9'6", 2012.
杰克·艾布拉姆 丙烯胶带和装订胶带,纸上拼贴,5 ' x 9 ' 6 ",2012年。
Jack Abramoff is a former American lobbyist who was sentenced to six years in prison in 2006 on charges of fraud, conspiracy, and tax evasion in his dealings with the Indian lobbying scandal and with Sun Cruz Casinos.
杰克·艾布拉姆是一个前美国说客,他在2006年被判处6年监禁,罪名是欺诈,阴谋,和在印度游说丑闻和太阳克鲁兹赌场中的逃税交易。
"White-collar crime [begs] questions about unlawful acts without a weapon," the artists elaborated in an email exchange with The Huffington Post. "What's the difference between taking a life and taking livelihood?"
"白领犯罪没有武器却犯罪于无形,"艺术家与《赫芬顿邮报》在一封电子邮件中阐述了自己的意见。"剥夺人的生计与杀人有什么区别?"
So how did they choose their disgraced subjects? "With issues of the 'one percent' and the financial collapse in mind, we focused on the past decade," Kuhl and Leyton stated. "We pulled from Washington, television, celebrity, corporate collapse, private investor... and the bizarre."
他们是如何选择主题的呢?"在过去的十年里,我们集中在百分之一与金融崩溃的问题。"库尔和莱顿说。"我们从华盛顿、电视、名人、企业解题和私人投资还有各种奇怪的事情中寻找主题"。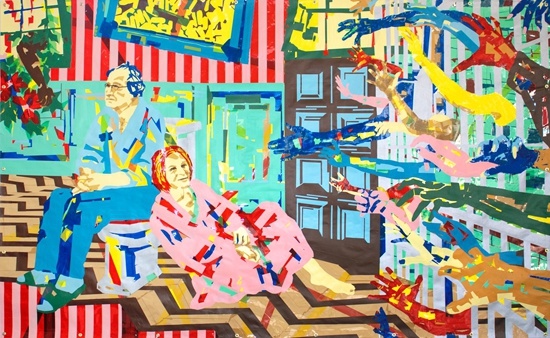 Bernie and Ruth Madoff, Acrylic Tape and Bookbinding Tape on Paper, 6'8" x 10'11", 2012.
伯尼•麦道夫和露丝,丙烯胶带和装订胶带纸上,6 8 x 10 11",2012。
Bernie Madoff is a former businessman, stockbroker, investment adviser, and financier who in 2009 pleaded guilty to eleven federal felonies and admitted to operating a massive Ponzi scheme that defrauded thousands of investors of billions of dollars.
伯尼·麦道夫是一位商人,股票经纪人、投资顾问和金融家,他在2009年承认了11个联邦重罪,和操作了一个巨大的庞氏骗局欺骗成千上万的投资者数十亿美元。
The project took the form of unusual tape portraits because "tape shares an immediacy and ephemerality with the stories we investigate," the artists wrote. "The candy-like palette makes themes inviting that might otherwise be difficult to approach."
这些主题采用了不寻找的胶带的形式,因为"胶带和我们所调查的故事一样是快速的、和短暂的",艺术家们写道,"变性颜料可能使得这些主题很难去处理"。

Enron, Acrylic Tape and Bookbinding Tape on Paper, 4'10" x 12'8", 2012.
安伦,丙烯酸磁带和装订胶带纸上,4 10 x 12 8",2012。
In 2001 the Enron Scandal was revealed, whose primary practitioners were Kenneth Lay and Jeffrey Skilling, which involved financial loopholes and poor accounting to hide debt that led to one of the biggest bankrupcy reorganizations in American history and cost shareholders nearly 11 billion dollars.
2001年安然丑闻被披露了,主谋是肯尼斯•莱和杰弗里•斯基林,他们涉及财务漏洞和隐藏债务,这导致了美国历史上最大的破产重组和股东近110亿美元成本的代价。
Sanford and Davis Blood Oath, Acrylic Tape and Bookbinding Tape on Paper | 5'2" x 9'9" | 2012.
桑福德和戴维斯血誓,丙烯胶带和装订胶带,纸上拼贴 5 ' 2 x 9 ' 9 ' ' 2012。
Allen Stanford and the former chief regulator of his Antigua bank allegedly took a "Blood Oath" in 2003 before operating a Ponzi scheme involving 7 billion dollars of securities of deposits.
艾伦·斯坦福和他的安提瓜银行前首席监管机构在2003年立下"血誓",这是在他们庞氏骗局涉及70亿美元的证券存款之前。
Kuhl和Leyton自述:我们的作品是对社会问题的探索
导读:我们的作品是对社会问题的探索。在设计一个图像之前,我们通过阅读和研究来调查主题。作为拼贴艺术家,二元性是我们的核心。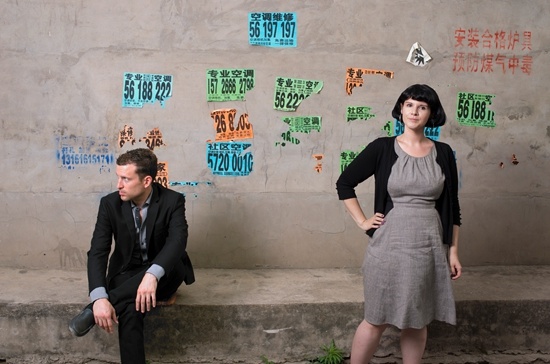 Our artwork is an exploration of social issues. We investigate topics through reading and research before designing an image. As collaborators duality is at the heart of what we do. We frequently use colorful tape, which is a playful medium that contrasts heavier, more serious topics. Tape is a temporary solution to bigger problems. Our work often falls between painting and drawing, landing somewhere around collage.
我们的作品是对社会问题的探索。在设计一个图像之前,我们通过阅读和研究来调查主题。作为拼贴艺术家,二元性是我们的核心。我们经常用彩色胶带,与更沉重,更严肃的话题相比,这是一个好玩的媒介。胶带是一个解决大问题的即时方法。我们的工作通常介于绘画之间,最后呈现以接近拼贴的形式。
We draw our ideas from the news, social media, and direct observation of the world around us. Our most recent work is based in China and stems from observing social life in China. We are currently researching the differences in various parts of Beijing: Xidan, Gulou, Guomao, and outlying regions. While some are filled with youth, tourists and working-class Chinese, others are populated with migrant workers in yet-to-be-gentrified parts of town. Beijing has been compared to a pancake that pours out slowly onto the pan. Development constantly pushes out from the center of the city. We hope to capture some of the differences among these areas as seen from a Western perspective.
我们表现来自新闻、社交媒体和直接观察世界的想法。我们最近的作品是基于在中国和对于中国的社会生活的观察。我们目前正在研究北京各个部分的差异:西单、鼓楼、国贸、边远地区。虽然一些地方充满了年轻人,游客和中国工人阶级,其他地方则是充满农民工的城乡结合部。北京像是慢慢倒进锅里的薄煎饼。从这座城市的中心不断的向外推进发展。我们希望从西方的角度来看,能捕捉到这些领域之间的一些差异。
---